Book Introduction

---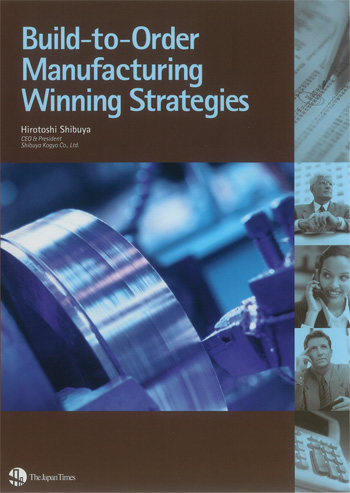 Published by The Japan Times, Ltd.
First edition: November 2006
BUILD-TO-ORDER MANUFACTURING
WINNING STRATEGIES
Author
Hirotoshi Shibuya
CEO & President
Shibuya Corporation

Hirotoshi Shibuya was born in September 1931. He graduated from the Department of Economics of Kyoto University in 1953, and in April of that same year, joined Shibuya Corporation. In 1973 he was appointed Vice-President, and promoted to President in 1983. Mr. Shibuya also served as the chairman of Ishikawa Machinery and Electronics Association in 1973, a guest professor at Kanazawa University in 2000, and Councilor of KEIDANREN (Japan Business Federation) in 2008. Mr. Shibuya has received recognition awards from Kanazawa City (1999) and Ishikawa Prefecture (2009) for his contributions to the local economy, and he was conferred the prestigious Order of the Rising Sun, Gold Rays with Rosette from the government of Japan (2010).
Mr. Shibuya, his brother Ryoji Shibuya, Hideyuki Kamiryo and two other colleagues, formed the Shibuya Foundation for the Promotion of Science, Culture, and Sports and are devoting their efforts toward the promotion of local culture and sports.
Mr. Shibuya's mottos are "Always be cheerful and positive onward," and "Business first and golfing second." Regarding his golf game, Mr. Shibuya has shot his age more than 300 times, and has seven hole-in-ones. His previous publications include: Challenge to Single Player (in Japanese) in December 1999, Productivity Improvement in April 2000, Build-to-Order Manufacturing Winning Strategies in May 2006, and Youthfulness Is a State of Mind (in Japanese) in June 2014.
CONTENTS
Preface

ix

Foreword

xi

An Introduction to Shibuya Kogyo

xix

(1) The History of Shibuya Kogyo

xix

(2) The World-leading Technologies of Shibuya

xxvii
PART I
THE FUNDAMENTALS OF BUSINESS FINANCE

1. Understanding the Balance Sheet

3

2. Statement of Cash Flow and Statement of Funds

7

3. Understanding the Income Statement

11

4. Understanding Financial Ratios

13

5. Elements of Productivity

19

6. Understanding Working Funds

25

(1) Required Working Funds

25

(2) The Timing of Revenue, Expenditure, and Cash and Deposits

27

(3) The Relation of Trade Terms and Conditions and Required Working Funds

30

(4) Notes Receivable-Trade Discounted and Loans

36

7. Capital Investment Strategy

37

(1) Effective Capital Investment

37

(2) Capital Investment, Depreciation, and Interest

40

(3) Capital Investment and Leasing

41

8. Development of the Break-Even Point

44

(1) The Break-Even Point (BEP) by the Straight-Line Method

44

(2) The Break-Even Point by the Hyperbolic Method

48

9. The Physical Unit

52

10. Productivity of Labor

59
PART II
ANALYZING PRODUCTIVITY: CASE STUDIES

Case 1. Analysis of Required Funds and Productivity

69

Case 2. Long-Term Business Planning and Productivity

77

Case 3. The Physical Unit and Productivity of Labor

86

Case 4. Comparison Between Inside and Outside
Manufacturing

92

Case 5. Subcontracting and Comparing the Productivity
of Subcontractors

104
PART III
BUSINESS MANAGEMENT AND FINANCE: CASE STUDIES

Case 1. Company Leaders and Company Finances (Working Funds)

115

Case 2. Plant and Equipment Investment and Management Policy

124

Case 3. Mortgages and Growth

131

Case 4. Organizational and Financial Management

136

Case 5. A Productivity Analysis: Shibuya Kogyo Over the Past 43 Years

147
PART IV
YO-JITSU COST CONTROL
IN BUILD-TO-ORDER MANUFACTURING

1. Build-to-Order Manufacturing and the Importance of Cost Control

163

2. Costs and Profits in Build-to-Order Manufacturing

167

3. Management Indexes for Cost Control

174

4. Cost Control Systems at Shibuya

178

5. Yo-Jitsu Cost Control Procedures

187

6. Results of Shibuya's Yo-Jitsu Cost Control

200

7. "Yo-Jitsu" at S・I Seiko Co., Ltd.

204
PART V
ESSENTIALS FOR SUCCESSFUL MANAGEMENT

1. Sharing the Company Vision and Philosophy

211

2. Practicing the Three KAIs:
Kaizen: Improvement
Kaikaku: Innovation
Kaihatsu: Development

217

3. The Three KAIs through BMBO

226

4. Timely Review of the Business Plan

236

Afterword

241
Appendix:
"TFP and the Measurement of Capital and Rents by Sector:
With the Data-sets of Thirty Countries,1995–2004"
by Hideyuki Kamiryo

245
PREFACE
A fine book has been published which should be very useful for those who want to make their comparatively small company one of the strongest companies in its field.
The author entered the small company run by his father after graduating from the department of economics of Kyoto University, becoming its president in 1983. Now that small company is one of the strongest companies in the world in the field of bottling-system machines.
Therefore, this book has been a best seller in Japan, and his management theory and practice have attracted the attention of many people.
This book gives managers confidence and points the way to solid results. Many rely too much on instinct or the advice of experts in financial affairs, and are apt to act either too cautiously or too boldly. In addition, experts in financial affairs may not always know well the important characteristics of each company. So the author of this book emphasizes the importance of managers themselves becoming educated in financial analysis and investment policy. Using a variety of illuminating case studies, he presents in an easy to understand way a number of effective accounting methods and shows their practical use in making good managerial decisions.
However, even if rational decisions are made, this may not always bring the high results expected. For, in a management situation, a decision and its realization are two different matters. Therefore, this book also gives valuable advice in various concrete management methods to strengthen the technological, managerial, and sales skills that will bring real results.
The author has performed a valuable service indeed in distilling what he has learned in his five decades in business for the benefit of those who are working managers or aspiring to such positions.
ISAO AKAOKA
President, Prefectural University of
Hiroshima