CLEANING / ENVIRONMENTAL SYSTEMS
Cleaning Equipment Systems for Food, Chemical, and Pharmaceutical Sectors
---
We manufacture a wide range of cleaning equipment systems by applying our excellent cleaning technology developed through our experience of manufacturing bottling systems. Our systems are used in various industries for cleaning pallets, cases, containers, tanks, and for peeling labels.
Case Washer

Cleans, rinses, and drains cases and peels labels off using an air assist nozzle. Also equipped with a label filter device.
Collapsible Containers Cleaning System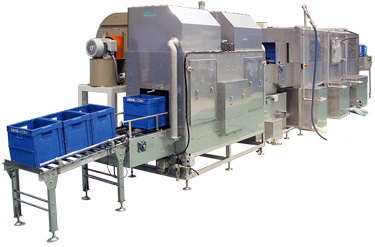 Cleans collapsible containers by low-pressure washing and peels off labels using an air assist nozzle. With a guiding structure to maintain the container's shape during the washing process, containers are cleaned thoroughly and labels are removed completely.
Nesting Case Cleaning System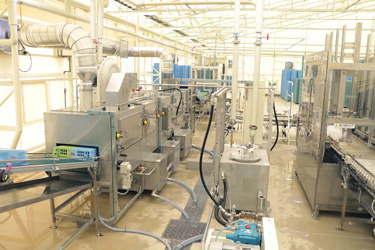 Destacks stacked cases, feeds cases one by one to the case washer section, cleans cases, peels off labels, drains the cases, inspects each case for contaminants, checks the orientation of each case and then stacks the cases.
Container Cleaning System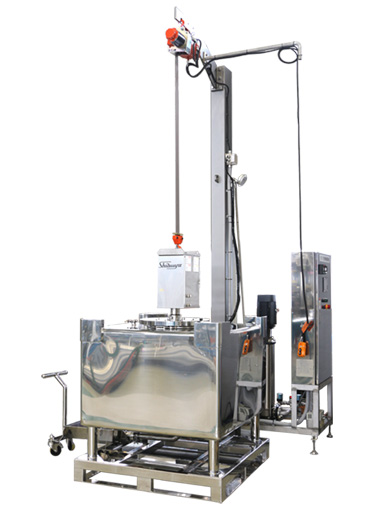 Cleans the interior of containers. A three-dimensional cleaning nozzle that rotates vertically and horizontally cleans the entire interior thoroughly. We also manufacture systems that automatically transfer containers to the cleaning section and systems for cleaning the exterior of containers.
Pan Washer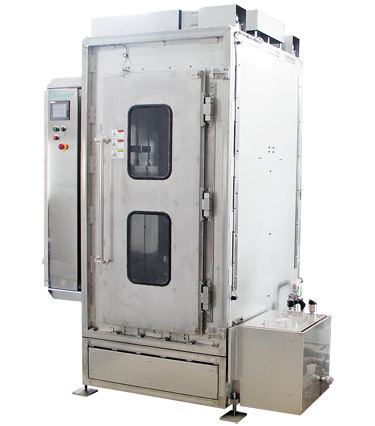 Washes pans for making thick rolled omelets with warm water without using any detergent. The machine's special design achieves washing that does not damage the coating inside the pans.
Chocolate Mold & Deposit Plate Cleaning System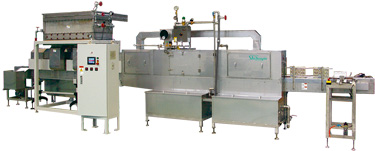 Washes molds and deposit plates for chocolate confectioneries. Continuously performs the following processes: preliminary washing, washing, rinsing, and drying.
Drums Washer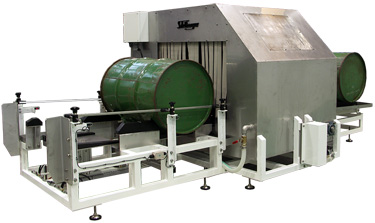 Cleans the interior of drums by high-pressure washing using a three-dimensional cleaning nozzle and cleans the outside of drums by a low-pressure shower using water.
Coating Pan Automatic Cleaning Unit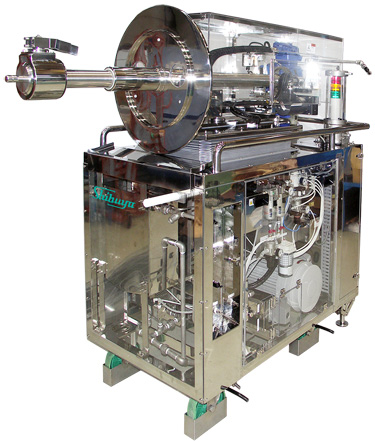 Using a three-dimensional cleaning nozzle, cleans the interior of coating pans used to coat tablets with sugar or other tablet coatings.
Stainless Steel Containers Cleaning System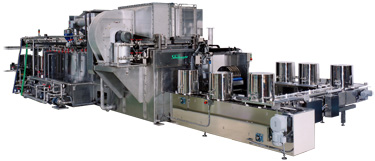 Washes stainless steel containers and their lids simultaneously. Performs preliminary washing, washing with detergent, rinsing (tap water), rinsing (purified water), draining, and drying. As the second rinse uses purified water, the cleaned containers have an impeccable appearance with no water spots.
Pallet Cleaning System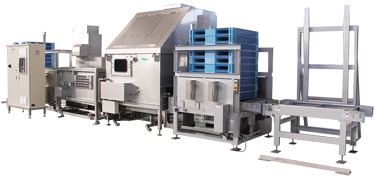 With this system, pallets are placed to stand vertically and cleaned efficiently from both sides. There are many draining type options and it is possible to integrate a drying unit and/or a direction-changing unit into the system.
Inquiries

SHIBUYA CORPORATION

SPM Sales Div.
4-13-5 Kitayasue, Kanazawa, Ishikawa 920-0054 JAPAN
TEL +81-76-233-8111 FAX +81-76-233-8115
E-mail samacs@shibuya.co.jp