MACHINING SYSTEMS
SLA Series Laser Ablation Machines
---
Model SLA Series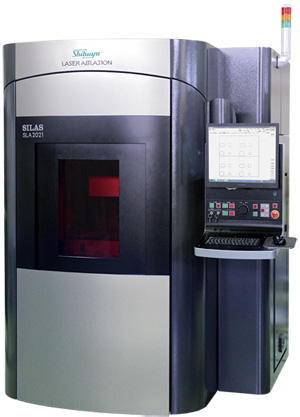 Model SLA2021
Features
Laser ablation machine equipped with short pulse laser resonators can process a wide range of materials including glass, resin, composite materials such as CFRP, and metal foils such as aluminum, copper, and stainless steel by suppressing thermal effects.
Laser ablation processing achieves higher quality processing than conventional laser processing (thin film removal,micro hole drilling, micro grooving and cutting).
Laser ablation machine is suitable for contour cutting of FPC and cover lay film cutting such as PI,PTFE and LCP.
Non-thermal cutting achieves high quality cutting with less carbonization, minimize HAZ, and less burrs compared to traditional laser cutting.
Cutting with suppressed thermal effects can shorten your manufacturing.
Laser ablation processing enables micro grooving even with hard materials.
Laser ablation processing is excellent for thin film removal processing. such as ITO, Ag and Cu without damaging the substrate.
The laser resonator is selectable from a pico-second type and nano-second type laser resonator according to application, and cutting in areas where the conventional pulse laser (micro-second pulse) could not achive.
Specific heat treatment to minimal area is also possible.
The irradiation optical system is selectable from the beam scanning method and fixed optical method.
Ablation processing realizes high quality CFRP cutting so that the lamination state of CFRP can be confirmed.
 

Ablation

Thermal cutting
(conventional laser)
Cutting condition
Instantaneous evaporation
Melting
Laser type
Ultraviolet light through infrared light
Infrared light
Pulse width
Several nanoseconds or less
(with nanosecond laser)
20 picoseconds or less
(with picosecond laser)
Several tens of microseconds or less
Cutting examples
Glass 60 × 40 mm, t0.7 mm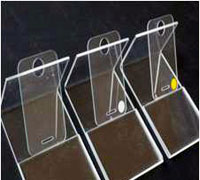 Resin 60 × 40 mm, t0.1 to t0.2 mm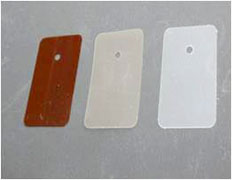 Polyimide 60 × 50 mm t0.05 mm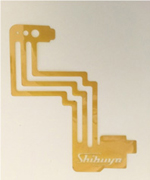 CFRP
40 × 25 mm, t0.6 mm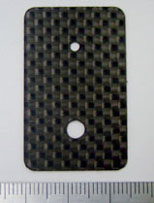 CFRTP
40 × 25 mm, t1.3 mm
Copper foil
40 × 25 mm, t0.2 mm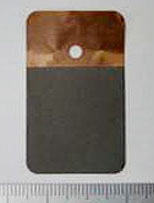 CFRP(Carbon Fiber Reinforced Plastics)
CFRTP(Carbon Fiber Reinforced Thermo Plastics)
Inquiries

SHIBUYA CORPORATION

Mechatronics Div. Specialized Machine Div. Sales Dept.
2-232 Wakamiya, Kanazawa, Ishikawa 920-0054 JAPAN
TEL 076-262-2216 FAX 076-262-2210
E-mail sh-info@shibuya.co.jp