MACHINING SYSTEMS
MUSASHI VIth Series CO
2
Laser Cutting Machines
---
This series of CO2 laser cutting machines achieves high-quality cutting with low running costs.
MUSASHI VIth Series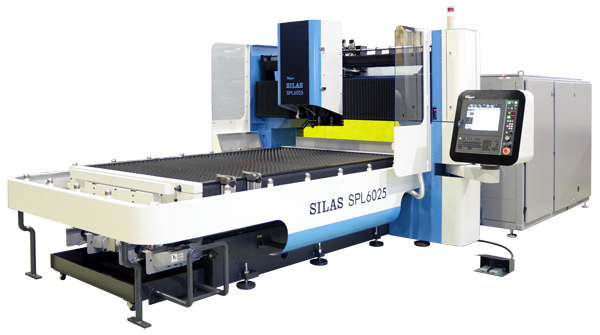 Model SPL6025
Features
The consumption of assist gas (N2) used for SUS non-oxidizing cutting is reduced by about 30% (compared to conventional Shibuya CO2 Laser Cutting Machines).
The mirror can be inspected or cleaned without dismantling the mirrors or holders.
A combined cross airflow and suction extraction system provides efficient removal of fumes and dust.(compared to conventional Shibuya CO2 Laser Cutting Machines)
Specifications
Model
SPL6025 / SOL20V
SPL6030 / SOL20V
Laser oscillator
SOL20V
Rated output
2000 W
Cutting range
1550 × 2500 mm
1550 × 3080 mm
Max. loading capacity
374 kg
(4' × 8' × 16 t)
585 kg
(5' × 10' × 16 t)
Max. X/Y-axis speed
40 m/min
Z-axis movement range
250 mm
Z-axis movement speed
75 m/min
Number of controlled axes
3 (X, Y, Z)
Number of simultaneously controlled axes
2 (X, Y)
Drive method
All-axis AC servo motor
Least input increment
0.001 mm
Input power※
3-phase, 200 V, 50/60 Hz
50.0 kVA
Machine dimensions
6250 (L)
×
2950 (W)
×
2310 (H) mm
6860 (L)
×
2950 (W)
×
2310 (H) mm
Machine weight※
9900 kg
10100 kg
※ Values include the laser oscillator, chiller and other standard equipment.
■When selecting a SSL laser resonator, consult Shibuya separately.
Laser oscillator
Model
SSL250B
SSL400B
SSL1000
SOL20V
Oscillator type
Sealed, slab type
Middle-speed spiral axial flow type
Rated output
200 W
400 W
1000 W
2000 W
Output stability
±2%
±2%
Peak power
750 W
1000 W
2500 W
2000 W
Min. pulse width
2 μs
350 μs
Max. number of repetitions
100 kHz
2 kHz
Input power
3-phase, 200 V
50/60Hz
6.5kVA
3-phase, 200 V
50/60Hz
15.0kVA
3-phase, 200 V
50/60Hz
27.5kVA
3-phase, 200 V
50/60Hz
27.5kVA
Mixed gas consumption
No consumption due to a sealed laser
25 lit/h※1
(12 lit/n in economy mode)
Weight
67 kg※2
58 kg※2
173 kg※2
1300 kg
※1 Filler gas during machine stop and purge gas for starting operation is separately required. The consumption of laser gas when starting operation may be larger than the above depending on the machine stop time.
※2 Value indicates the weight of the laser oscillator itself and does not include the stand.
■Specifications are subject to change due to constant improvements.
Inquiries

SHIBUYA CORPORATION

Mechatronics Div., SILAS Sales Dept.
2-232 Wakamiya, Kanazawa, Ishikawa 920-0054 JAPAN
TEL +81(76)263-8111 FAX +81(76)262-2210
E-mail sl-info@shibuya.co.jp