MACHINING SYSTEMS
SWS1200B Water Jet Cutting Machines
---
This water jet cutting machine uses ultra-high pressure water.
It is a multi-purpose machine which is excellent in total balance. With this water jet cutting machine, the sheet for cutting is moved during cutting and the machine can be incorporated in a production line.
Model SWS1200B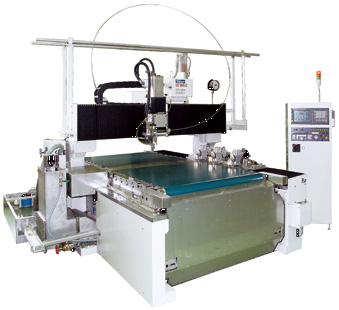 Model SWS1212B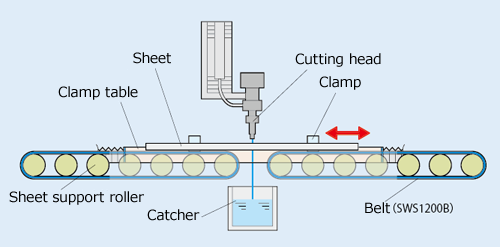 In this machine's design in which the sheet for cutting is moved during cutting, the clamp table moves in the X-axis direction and the cutting head moves in the Y-axis direction, allowing cutting of free forms.
Features
The catcher tank eliminates the use of consumables such as conventionally used SUS balls, therefore reducing running costs.
The flat belt fixing frame is eliminated and the side bellows structure is reviewed, simplifying work loading/unloading and enabling easy incorporation in production lines.
Specifications
Model
SWS1212B
SWS1225B
Cutting range
1250 × 1250 mm
2450 × 1250 mm
Rapid feed rate
12000 mm/min
Z-axis movement amount
150 mm
Number of simultaneously controlled
axes 2
Drive method
All-axis AC servo motor
Max. table loading capacity
138 kg
276 kg
Input power※
3-phase, 200 V 50/60Hz 63.6kVA
3-phase, 200 V 50/60Hz 63.6kVA
Machine dimensions
3275 (L) × 2910 (W) × 3100 (H) mm
5675 (L) × 3120 (W) × 3200 (H) mm
Machine weight
4000 kg
7000 kg
※ Includes the high-pressure pump.
■Specifications are subject to change due to constant improvements.
Inquiries

SHIBUYA CORPORATION

Mechatronics Div., SILAS Sales Dept.
2-232 Wakamiya, Kanazawa, Ishikawa 920-0054 JAPAN
TEL +81(76)263-8111 FAX +81(76)262-2210
E-mail sl-info@shibuya.co.jp