MACHINING SYSTEMS
SWS4300 Water Jet Cutting Machines
---
This water jet cutting machine uses ultra-high pressure water.
This water jet cutting machine is an open catcher type suited for cutting large-size sheets fixed in place.
Model SWS4300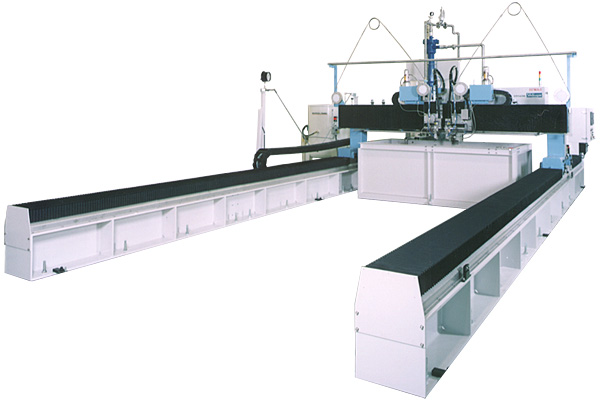 Model SWS4361D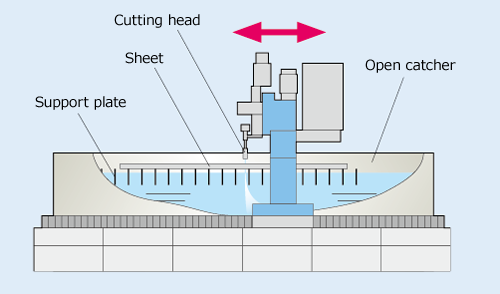 The open catcher type cuts sheets in free forms by fixing the sheet to cut on the support plate placed in a water tank and moving the cutting head in the X / Y-axis directions with the gantry. This machine is especially suitable for cutting heavy/large sheets.
Features
The X-axis twin drive achieves short acceleration/deceleration times and enables high-accuracy cutting at high-speed.
The abrasives collection system (optional) substantially reduces the number of times the open catcher has to be cleaned.
The twin head type (optional) can be selected to simultaneously cut two products of the same shape.
Specifications
Model
SWS4305S
SWS4312S
SWS4361S
SWS4315ST
Cutting range
500 × 500 mm
2450 × 1250 mm
2450 × 6100 mm
3050 × 1525 mm
Rapid feed rate
12000 mm/min
15000 mm/min
Z-axis movement amount
150 mm
Number of simultaneously controlled
axes 2
Drive method
All-axis AC servo motor
Max. table loading capacity
50 kg
600 kg
2900 kg
600 kg
Input power※
3-phase, 200 V 50/60Hz 58.6kVA
3-phase, 200 V 50/60Hz 63.1kVA
3-phase, 200 V 50/60Hz 63.6kVA
3-phase, 200 V 50/60Hz 63.6kVA
Machine dimensions
2540(L)
x
2125(W)
x
3160(H)mm
3115(L)
x
4100(W)
x
3800(H)mm
9050(L)
x
4770(W)
x
3850(H)mm
2600(L)
x
4500(W)
x
4000(H)mm
Machine weight
2000 kg
5500 kg
8000 kg
3000 kg
※ Includes the high-pressure pump.
■Specifications are subject to change due to constant improvements.
Inquiries

SHIBUYA CORPORATION

Mechatronics Div., SILAS Sales Dept.
2-232 Wakamiya, Kanazawa, Ishikawa 920-0054 JAPAN
TEL +81(76)263-8111 FAX +81(76)262-2210
E-mail sl-info@shibuya.co.jp