PHARMACEUTICAL MANUFACTURING SYSTEMS
Sterility Testing Isolator
---
This isolator easily maintains advanced aseptic conditions for sterility testing by eliminating interference of operators. There is therefore no need for maintaining or running a cleanroom. This isolator also satisfies various regulatory requirements.
Sterility Testing Isolator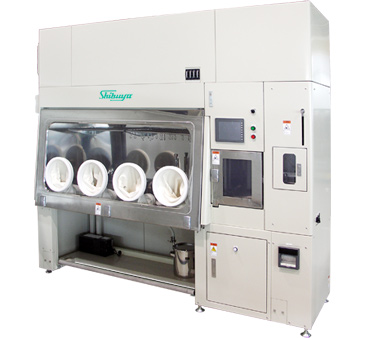 Incorporating a hydrogen peroxide decontamination system developed solely by Shibuya, this isolator realizes decontamination in a short time. The modular design of the isolator allows establishment of the aseptic testing environment which best fits your needs.
FEATURES
The flexible modular design allows you to select the size optimum to your needs.
Glove sizes and thicknesses can be selected from a wide variety.
Connection with various components including a pass box and a RTP is possible.
A variety of customizations is available.
Built-in decontamination unit / 3 gloves

Movable decontamination unit / 3 gloves

Pass box / Built-in decontamination unit / 3 gloves

Built-in decontamination unit / 4 gloves

Movable decontamination unit / 4 gloves

Pass box / Built-in decontamination unit / 4 gloves

Built-in decontamination unit / 5 gloves

Movable decontamination unit / 5 gloves

Pass box / Built-in decontamination unit / 5 gloves
Inquiries

SHIBUYA CORPORATION

International Plant Sales Div.
Ko-58 Mameda-Honmachi, Kanazawa, Ishikawa 920-8681 JAPAN
Telephone : +81(76)262-1615 Fax : +81(76)223-1795
E-mail packaging@shibuya.co.jp