PHARMACEUTICAL MANUFACTURING SYSTEMS
Chemical Containment Isolator
---
This chemical containment isolator was developed for the handling of powders, particularly for the formulation of highly potent pharmaceuticals. It contains powder materials within to isolate them from operators and the working environment.
Chemical Containment Isolator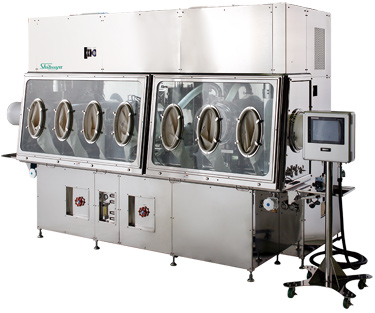 Exhibiting excellent air-tightness, these isolators achieve a low occupational exposure limit (OEL) of only 0.1 μg. Based on our extensive experience in developing equipment for drug substances to those for pharmaceuticals, we design and manufacture various isolators with emphasis on operability.
FEATURES
In-house evaluation analysis of OELs is possible.
Glove thickness can be selected in consideration of fine work.
Connection to a pass box, RTP, containment valve and other components is possible.
We have abundant experience in connecting with various types of equipment.
For high-speed mixer granulator

For dry-type granulator

For fluidized bed granulator

For tablet press

For aseptic containment
Inquiries

SHIBUYA CORPORATION

International Plant Sales Div.
Ko-58 Mameda-Honmachi, Kanazawa, Ishikawa 920-8681 JAPAN
Telephone : +81(76)262-1615 Fax : +81(76)223-1795
E-mail packaging@shibuya.co.jp