PHARMACEUTICAL MANUFACTURING SYSTEMS
Room Decontamination System
---
This system is used to decontaminate a cleanroom in a short time using hydrogen peroxide vapor. It can be used to replace decontamination systems which use formaldehyde, a substance that has come to be known as being carcinogenic, in existing buildings.
Room Decontamination System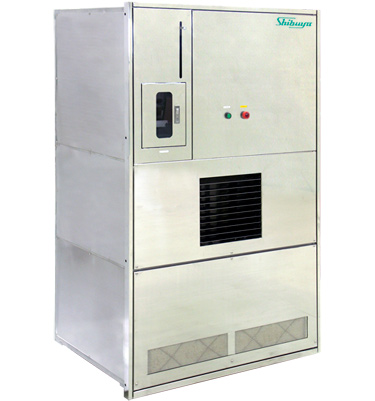 Movable types, fixed types, and many other types are designed and manufactured according to application. Various decontamination tests and endurance tests are possible at Shibuya's in-house laboratory. There is no need for temperature and humidity control, and automatic decontamination until the completion of aeration at night is possible.
FEATURES
Efficient decontamination drastically shortens the decontamination time.
Control of temperature and humidity are not required.
The amount of hydrogen peroxide to use can be largely reduced.
SQ (decontamination verification) is possible in-house at Shibuya to establish the optimum decontamination cycle.
Inquiries

SHIBUYA CORPORATION

International Plant Sales Div.
Ko-58 Mameda-Honmachi, Kanazawa, Ishikawa 920-8681 JAPAN
Telephone : +81(76)262-1615 Fax : +81(76)223-1795
E-mail packaging@shibuya.co.jp