PHARMACEUTICAL MANUFACTURING SYSTEMS
Vial Filling System
---
This system is for aseptically filling vials, and comprises a washing machine, dry sterilization machine, filling and rubber stopper machine, and a seaming machine. Because isolators for this system are also designed in-house by Shibuya, smooth operation together with an isolator is assured.
Vial Filling System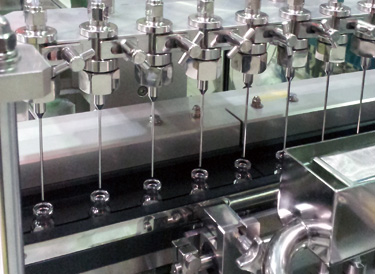 Based on extensive experience, we will propose the optimum filling and transfer system for your needs.
FEATURES
We build and propose the best system for formulation based on various filling methods.
Combination with Shibuya-designed isolators or RABS units can be achieved with optimum connections.
Washing machines and dry sterilization machines as well as peripheral equipment can be designed and manufactured by Shibuya to establish optimum lines.
Washing Machines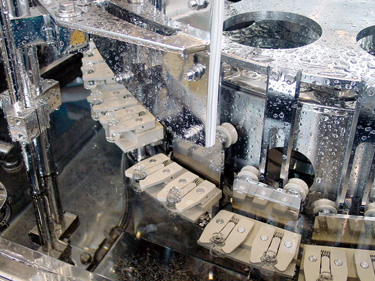 Ultrasonic washing machine
Uniform irradiation time is ensured in ultrasonic washing and vials are inverted at the washing unit for efficient washing.
Dry Sterilization Machines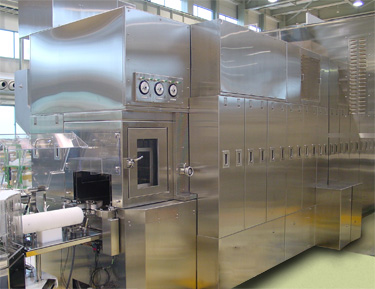 Dry sterilizing tunnel
Depyrogenation is performed by a hot circulation method which maintains a cleanroom class 100 status. Sterilization of the cooling unit is possible by either dry heat sterilization or gas decontamination.
Filling and Rubber Stopper Machines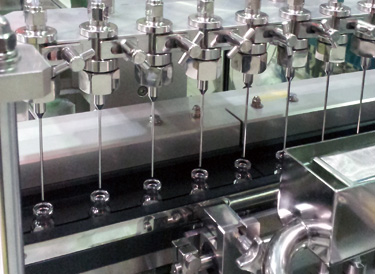 Vial filling and rubber stopper machine
The double transfer rake design allows fast but stable transfer. A filling method can be selected from various types and an IPC automatic sampling unit is provided.
Seaming Machines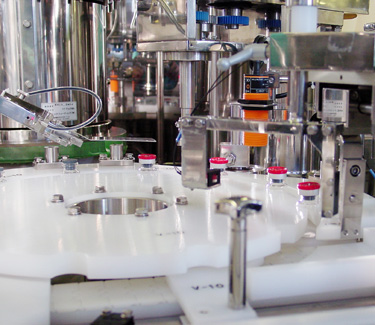 Vial seaming machine
The load applied to the cap top is monitored for all vials to achieve stable seaming.
Inquiries

SHIBUYA CORPORATION

International Plant Sales Div.
Ko-58 Mameda-Honmachi, Kanazawa, Ishikawa 920-8681 JAPAN
Telephone : +81(76)262-1615 Fax : +81(76)223-1795
E-mail packaging@shibuya.co.jp