PHARMACEUTICAL MANUFACTURING SYSTEMS
Nested Syringe Filling System
---
This production system is for aseptically filling sterilized syringes supplied in nested packages, and comprises an external packaging decontamination unit, internal bag removal unit, lid removal unit, liner removal unit, and a filling and rubber stopper machine. Because isolators for this system are also designed in-house by Shibuya, smooth operation together with an isolator is assured.
Nested Syringe Filling System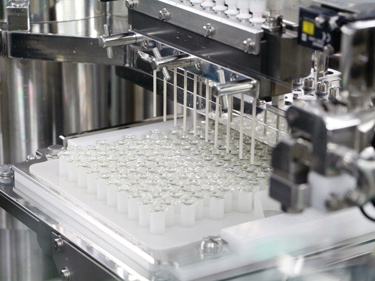 Based on extensive experience, we will propose the filling method optimum for your needs. Our unique syringe centering mechanism ensures stable transfer of various materials.
FEATURES
The optimum system for formulation can be established based on various filling methods (MF, piston, WF, tube filling, TP).
Lines for single-use formulations are also possible.
Combination with Shibuya-designed isolators or RABS units can be achieved with optimum connections.
Systems for fitting top caps are also possible.
We make proposals for various material supply methods based on our abundant experience including methods such as inner bag removal (NTT method), external packaging decontamination by hydrogen peroxide, and bringing in electron beam (EB) sterilized materials.
Design for different types of nest packaging materials is possible.
Vial manufacturing can also be proposed as part of a system.
An IPC automatic sampling unit can be mounted.
N2 purging and vacuum capping are possible.
Inquiries

SHIBUYA CORPORATION

International Plant Sales Div.
Ko-58 Mameda-Honmachi, Kanazawa, Ishikawa 920-8681 JAPAN
Telephone : +81(76)262-1615 Fax : +81(76)223-1795
E-mail packaging@shibuya.co.jp