PHARMACEUTICAL MANUFACTURING SYSTEMS
Ophthalmic Solution Filling System
---
This system is for aseptically filling eye drop containers. It comprises a bottle orientation unit, air cleaner, filling/inner plugging machine and outer capping machine, and is usable with an isolator.
Ophthalmic Solution Filling System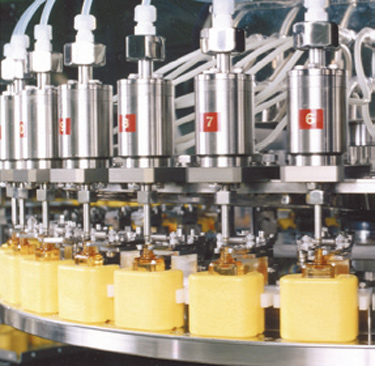 Based on extensive experience, Shibuya proposes optimal filling methods. The neck grip method or puck transfer method may be chosen according to the shape of containers. Material handling in an isolator environment and various filling methods are available.
FEATURES
The optimum system for formulation can be established based on various filling methods (MF, piston, WF, tube filling, TP).
Combination with Shibuya-designed isolators or RABS units can be achieved with optimum connections.
Combination with various supply machines using robots is possible.
Operation proposals can include the bringing in of materials such as decontamination of external packaging.
Containers for medical use, OTC products and other irregular shaped containers can be handled.
The transfer method can be selected from the free-standing type and the carrier type.
We also propose ideal preparation facilities.
Inquiries regarding integrity test systems are also welcome.
Inquiries

SHIBUYA CORPORATION

International Plant Sales Div.
Ko-58 Mameda-Honmachi, Kanazawa, Ishikawa 920-8681 JAPAN
Telephone : +81(76)262-1615 Fax : +81(76)223-1795
E-mail packaging@shibuya.co.jp