PHARMACEUTICAL MANUFACTURING SYSTEMS
Aseptic Powder Vial Filling System
---
This system is for aseptically filling injection containers with powder.
Highly accurate filling of even minute amounts of various kinds of powder is possible.
Aseptic Powder Vial Filling System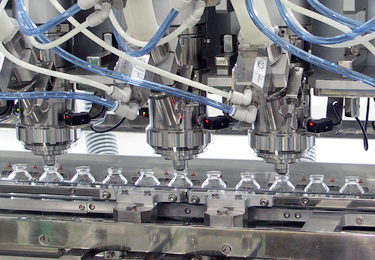 Based on extensive experience, we will propose the optimum filling method for various kinds of powder. Filling of ampoules, vials, syringes, bags, resin containers, and dry powder inhalers (DPIs) is possible. Proposals for filling in an isolator environment are also possible.
FEATURES
Shibuya has in-house experiment facilities for actual powder, and advance testing is possible from a QbD approach.
Auger filling to achieve S-CIP is possible.
System upgrades by enabling automatic sampling, media filling, etc., are possible.
Complete filling data can be measured.
The complete machine line-up (washing to filling, seaming, sealing, etc.) can be prepared for various containers.
The amount of residual powder is minimized (by complete discharge).
Testing using actual powder is done in-house at Shibuya to shorten on-site work processes.
Inquiries

SHIBUYA CORPORATION

International Plant Sales Div.
Ko-58 Mameda-Honmachi, Kanazawa, Ishikawa 920-8681 JAPAN
Telephone : +81(76)262-1615 Fax : +81(76)223-1795
E-mail packaging@shibuya.co.jp