PHARMACEUTICAL MANUFACTURING SYSTEMS
Preparation Facilities
---
The full series of equipment for processes from preparation, medical liquid filtration, up to filling is provided.
Preparation Facilities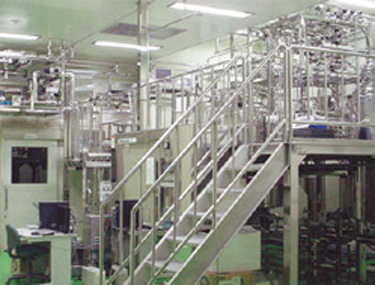 Shibuya proposes preparation facilities which are designed and manufactured by the maker of filling machines and isolators, thereby establishing optimum operability.
FEATURES
Connecting and interlocking with SCIP filling equipment is possible.
Docking with an isolator is possible (for supplying sterile drug substances).
A diverse array of customizations are available based on extensive experience in design.
The optimum mixer will be selected and offered.
The filter integrity test is PLC-controlled.
Inquiries

SHIBUYA CORPORATION

International Plant Sales Div.
Ko-58 Mameda-Honmachi, Kanazawa, Ishikawa 920-8681 JAPAN
Telephone : +81(76)262-1615 Fax : +81(76)223-1795
E-mail packaging@shibuya.co.jp