SEMICONDUCTOR / BATTERY MANUFACTURING SYSTEMS
SBM500 Solder Ball Mounter
---
High throughput type with mounting function / High-accuracy vision system alignment / Can mount small-diameter balls
SBM500 (For BGA substrates)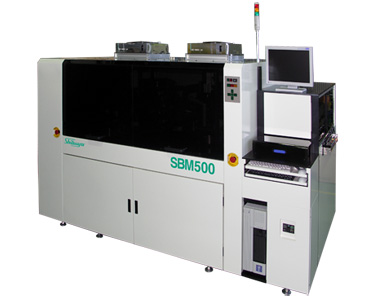 This BGA (Ball Grid Array) solder ball (as well as Copper core ball) mounter performs automatic vision alignment, flux transfer, ball gang-mount on BGA substrates and post-ball attach inspection at high throughput.
The above process is performed within ball mount module without connecting other module.
Features
High-accuracy ball mounting by vision system alignment.
High speed is achieved with a dual-lane substrate transfer system.
The substrate transfer table and substrate suction assistance mechanism facilitate mounting even on largely warped substrates.
Specifications
Model

SBM500

Applicable product type

BGA (strip-formed substrate)
Flip Chip BGA (singulated substrate)

Ball size

φ0.15 to 0.76 mm

Ball pitch

Min. 0.30 mm

Ball mounting range

Max. 270 (L) x 90 (W) mm

BGA substrate size

Max. 280 (L) x 100 (W) mm

Ball mounting
accuracy

±0.03 mm (3 σ) (for φ0.15-mm balls)

Unit dimensions

2580 (L) × 1655 (W) × 1715 (H) mm
INQUIRES

SHIBUYA CORPORATION

Mechatronics Div. S&H Div. Semi-Conductor System Sales Dept.
2-232, Wakamiya, Kanazawa 920-0054
TEL +81(76)262-2201 FAX +81(76)262-2210
E-mail sh-info@shibuya.co.jp